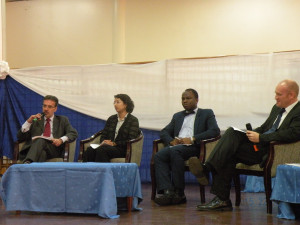 Dr. George Mavrotas, NSSP-IFPRI Program Leader, was invited to participate in the main panel discussion for the Strategy and Planning of the Knowledge Management (KM) Framework for the Agricultural Transformation Agenda (ATA). The event, held on March 18, 2015 in Abuja, was jointly organized by the Nigerian Federal Ministry of Agriculture and Rural Development (FMARD), United Nations Development Programme (UNDP), the Bill and Melinda Gates Foundation (BMGF) and the World Bank. Mr. Francis Neuman, Knowledge Management Advisor, UNDP RSC-ESA, launched the four-day workshop by reiterating the value addition that KM brings to the ATA. Firstly, it serves to strengthen the ATA systematically through the KM System management and infrastructure components and secondly through its application - increasing access to information, impact on policy development, innovation and learning.
Dr. Mavrotas participated in a roundtable discussion with key stakeholder groups focusing on ways to create awareness to enable a clear direction on the importance and modalities for developing and implementing the KM Framework, System and Action plan. This is a key area of the ATA as it shapes a KM Framework that will clearly reflect stakeholder needs and accurately define the major principles and mechanisms by which ATA stakeholders will be guided while implementing the change process. The event was a follow up on the October 2014 conference, and in which Dr. Mavrotas presented on behalf of IFPRI-NSSP a white paper on the policy lessons emanating from other countries in this area, and on the identified capacity development needs in order to ensure that the goals of the ATA will be fully achieved.
The key stakeholder groups represented at the Panel Discussion were from the Ministry of Agriculture (Mr. Emebinah Ebuka, Consultant, Phillips Consulting Limited), Farmers Organization (Mrs. Lizzy Igbine, Nigerian Women Agro-Allied Farmers), Research Organizations (Dr. George Mavrotas, NSSP-IFPRI), the Agribusiness Private Sector (Mr. Daniel Udo, Agribusiness and Investment) and the Development Partners (Ms. Alefia Merchant, USAID Agriculture Development Officer). The discussion was moderated by Mr. Steffen Janus (Senior Operations Officer, Knowledge Hubs, World Bank).  IFPRI expressed its commitment towards the direction of promoting data collaboration with competent access for sharing acquired data across the KM System. It was also stressed that the involvement of the Agricultural Research Council of Nigeria (ARCN) in the implementation of the KM Framework for ATA would be important as it can play a key role in strengthening the Nigerian agricultural research system.