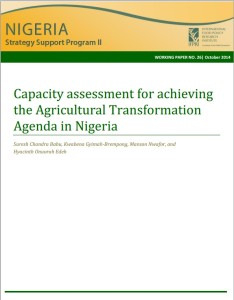 Download
Authors
.
Abstract: Transformation of the agricultural sector has become a development imperative for many African countries in order to achieve the Millennium Development Goals that relate to improved food security and reduced hunger. Nigeria is no excep-tion and has recently initiated its own program with this objective, the Agricultural Transformation Agenda (ATA). Lessons from transforming traditional agriculture in the past have shown that for every level of sectoral transformation, corresponding levels of organizational and individual human capacity must be attained as well. This report presents the findings and recommendations of a capacity needs assessment study carried out between July and September 2012 in the context of the ATA. In this paper, we document an approach to capacity strengthening in the Federal Ministry of Agriculture and Rural Development (FMARD) to implement the ATA. The objectives of this report include mapping key institutions and stakeholders, analyzing institutional capacity strengths and gaps, and making recommendations to improve these capacities in relation to their proposed implementation roles. This report also identifies the leadership and management structure required within FMARD for the successful implementation of the ATA. We then make recommendations to improve capacity at the policy process and organizational levels to increase the effectiveness and efficiency of FMARD. Capacity assessments were carried out at three levels: the policy process level, the organizational level, and the individual level.
In 2012, IFPRI and Africa Lead, at the request of the Federal Ministry of Agriculture and Rural Development (FMARD) and USAID, prepared a report to map the key institutions/organizations which would drive the Agricultural Transformation Agenda (ATA) and identify their capacity development needs in order to ensure that the goals of the ATA will be achieved. More importantly, this report was to set in place a structure, process and habit of thought and analysis that would lead to better designed, delivered, and measured agriculture programs in Nigeria leading to greater agriculture productivity and food security over the long run. In response to this report, FMARD conducted a five-day Strategic Planning Workshop on Capacity Development from October 20th-24th, 2014 to prepare the building blocks for a structured and prioritized five-year capacity development plan.
The Nigerian Federal Ministry of Agriculture and Rural Development in collaboration with the Food and Agricultural Organization (FAO) celebrated the 2014 World Food Day between the 13th and 16th of October with a series of activities. On October 15th, a National Agricultural Show was held in Tudun Wada, Nasarawa State to showcase agricultural products and the various endeavors of agricultural organizations and associations in furthering the development of agricultural sectors. Amongst the many organizations present were the National Veterinary Research Institute, Nigeria Institute for Oil Palm Research, National Cereals Research Institute, National Horticultural Research Institute, National Agricultural Extension and Research Liaison Services (NAERLS).
The International Food Policy Research Institute (IFPRI) alongside the International Fertilizer Development Centre (IFDC) held a joint exhibit at the event. Nigeria Strategy Support Program's (NSSP) Senior Research Assistant, Motunrayo Oyeyemi, informed attendants on IFPRI's mission to provide research-based policy solutions that sustainably reduce poverty and end hunger and malnutrition and NSSP's aims to: 1) enhance knowledge through information, data, and tools for the analysis, design, and implementation of pro-poor, gender-sensitive, and environmentally sustainable agricultural and rural development polices and strategies in Nigeria; 2) strengthen the capacity of government agencies, research institutions, and others to carry out and use applied research for agricultural and rural polices and strategies; and 3) improve communication between policymakers, policy analysts, and those who benefit from agricultural and rural development policy. In addition, Dr. George Mavrotas, Program Leader of NSSP, and Dr. Yemisi Kuku-Shittu, Associate Research Fellow, attended the 2014 World Food Day Symposium held in Abuja.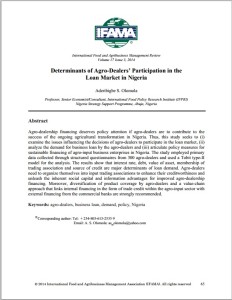 The Nigeria Strategy Support Program (NSSP) is pleased to announce the publication of Determinants of Agro-Dealers' Participation in the Loan Market in Nigeria by Professor Aderibigbe Olomola, Senior Economist/Consultant for NSSP in the International Food and Agribusiness Management Review (Vol. 17 Issue. 3). The publication was published in September 2014.
Abstract: Agro-dealership financing deserves policy attention if agro-dealers are to contribute to the success of the ongoing agricultural transformation in Nigeria. Thus, this study seeks to (i) examine the issues influencing the decisions of agro-dealers to participate in the loan market, (ii) analyze the demand for business loan by the agro-dealers and (iii) articulate policy measures for sustainable financing of agro-input business enterprises in Nigeria. The study employed primary data collected through structured questionnaires from 300 agro-dealers and used a Tobit type-II model for the analysis. The results show that interest rate, debt, value of asset, membership of trading association and source of credit are major determinants of loan demand. Agro-dealers need to organize themselves into input trading associations to enhance their creditworthiness and unleash the inherent social capital and information advantages for improved agro-dealership financing. Moreover, diversification of product coverage by agro-dealers and a value-chain approach that links internal financing in the form of trade credit within the agro-input sector with external financing from the commercial banks are strongly recommended.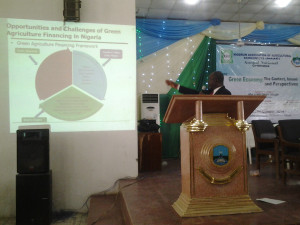 The Nigeria Strategy Support Program's Senior Economist/Consultant, Professor Aderibigbe Olomola, and Senior Research Assistant, Margaret Adesugba, presented their paper titled, "Transforming Nigerian Agriculture in the Context of a Green Economy: Financing Challenges, Opportunities and Mechanisms," at the 15th Annual Conference of the Nigerian Association of Agricultural Economists held at Niger Delta University (Wilberforce Island, Bayelsa State) on October 13th, 2014.
Although the agricultural sector has demonstrated improved performance since the inception of the Argricultural Transformation Agenda (ATA) in 2011, financing bottlenecks remain; and the major concern is the lack of emphasis on green finance. The paper advocates for financing mechanisms to support a transformation agenda that moves agriculture away from activities that are nature degrading and environment polluting to those that are nature preserving and environment friendly. It argues that an agricultural financing framework to engender a green economy in Nigeria must be pursued within the context of sustainable development and poverty alleviation in which the integration between economic, social and environmental pillars of development are recognized and reinforced. Specifically, the paper examines the gaps between agricultural transformation and green finance in Nigeria, identifies the constraints and opportunities for green agriculture financing and articulates appropriate financing mechanisms. These include value chain financing to support integrated farming systems, support for organic agriculture by NIRSAL, financing of product and agricultural system certification, financing the monitoring of natural resource exploitation and restoration, financing the development of climate change buffers, inter-agency collaboration in financing desert encroachment and restoration of degraded land and mainstreaming green finance in the implementation of the staple crop processing zone component of ATA. In conclusion, the paper calls for the crafting of a "green-print" for a green agricultural economy – a well-informed policy layout for greening agricultural growth in Nigeria with an implementation plan to serve as the solid investment foundation required for the industrialization of the Nigerian economy.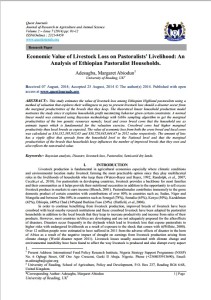 The Nigeria Strategy Support Program (NSSP) is pleased to announce the publication of Economic Value of Livestock Loss on Pastoralists' Livelihood:  An Analysis of Ethiopian Pastoralist Households by NSSP Senior Research Assistant Margaret Abiodun Adesugba, in the Journal of Research in Agriculture and Animal Science (Vol. 2 Issue 7). The article was published in August 2014.
Abstract: This study estimates the value of livestock loss among Ethiopian Highland pastoralists using a method of valuation that explores their willingness to pay to prevent livestock loss should a disaster occur from the marginal productivities of the breeds that they keep. The theoretical linear household production model motivates the study since it explains households profit maximizing behavior given certain constraints. A normal linear model was estimated using Bayesian methodology with Gibbs sampling algorithm to get the marginal productivities of the two genetic resources namely; local and cross breed cows that the household use as animate inputs which is fundamental for the valuation exercise. Crossbred cows had higher marginal productivity than local breeds as expected. The value of economic loss from both the cross breed and local cows was calculated as $34,332,395,932.65 and $38,720,845,644.67 in 2012 value respectively. The amount of loss has a ripple effect that spreads from the household level to the National level and that the marginal productivities of the breeds that households keep influences the number of improved breeds that they own and also reflects the non-traded value.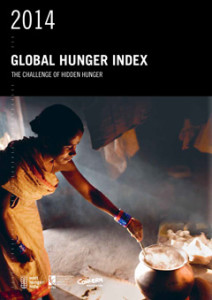 The 2014 Global Hunger Index (GHI) report—the ninth in an annual series—presents a multidimensional measure of national, regional, and global hunger. It shows that the world has made progress in reducing hunger since 1990, but still has far to go, with levels of hunger remaining "alarming" or "extremely alarming" in 16 countries.
This year's report focuses on a critical aspect of hunger that is often overlooked: hidden hunger. Also known as micronutrient deficiency, hidden hunger affects more than an estimated 2 billion people globally. The repercussions of these vitamin and mineral deficiencies are both serious and long-lasting. Where hidden hunger has taken root, it not only prevents people from surviving and thriving as productive members of society, it also holds countries back in a cycle of poor nutrition, poor health, lost productivity, persistent poverty, and reduced economic growth.
Nigeria has steadily been reducing it's GHI score since 1990, but the severity of hunger in the country remains classified as "serious" according to the report. While Nigeria is preforming better than Sub-Saharan Africa as whole, it has only surpassed Cote d'Ivoire, Liberia, Burkina Faso, Niger, and Sierra Leone in West Africa. This is partially due to the increased violence in the northern Nigeria as displaced populations and their host communities face a higher risk of food insecurity, malnutrition, and epidemics.
The Federal Ministry of Agriculture and Rural Development (FMARD) inaugurated the Agricultural Transformation Agenda (ATA) Policy Working Group with a two-day high-level workshop on September 15-16th, 2014. The event was attended by the Minister of Agriculture and Rural Development, the Minister of State, the Chairman of the Committee on Agriculture for the Senate and the Chairman of the House of Representatives, the Chief Economic Adviser to the President, and other high level government officials. In support of the creation of the ATA Policy Working Group, the Nigeria Strategy Support Program's Leader, Dr. George Mavrotas, joined donors and other key stakeholders in offering IFPRI's support to the goals of the ATA Policy Working Group through a goodwill speech.
Africa Lead and the International Food Policy Research Institute (IFPRI) carried out a study in 2012 to assess the capacity needs of the Federal Ministry of Agriculture and Rural Development (FMARD). The study entitled, Assessment of Nigeria Agriculture Transformation Agenda (ATA) and Capacity Building Needs, identified key areas that required strengthening with the FMARD in order to efficiently implement the Agricultural Transformation Agenda (ATA). On September 10th, 2014 a meeting at the FMARD was convened to share the findings of the Africa Lead/IFPRI report along with other studies conducted by Monitor Deloitte and ActionAid Nigeria to key members of the FMARD and the donor community in support of the FMARD's efforts to create a 5-year work plan to address these issues.
The Honorable Minister of Agriculture and Rural Development of the Federal Government of Nigeria has articulated the need for the Agricultural Transformation Agenda (ATA) to unlock Nigeria's potential to improve availability and access to nutritious foods in order to improve food and nutrition security through agriculture. As a result, a two-day National Capacity Building Workshop on Mainstreaming Food and Nutrition Security into Agricultural Policies, Programmes and Value Chains was held in Abuja on August 27th and 28th, 2014. The workshop was organized by the Nutrition Transformation Value Chain (NTVC) team and coordinated by the Senior Advisor to the Honorable Minister of Agriculture and Rural Development on Food Security and Nutrition, Dr. Victor Ajieroh.
The Nigeria Strategy Support Program (NSSP) of the International Food Policy Research Institute (IFPRI) is pleased to announce the appointment of a new Program Leader, Dr. George Mavrotas. Dr. Mavrotas has a dual appointment as a Senior Research Fellow with the Development Strategy and Governance Division of the International Food Policy Research Institute in Washington DC and as the Program Leader of the Nigeria Strategy Support Program in our Abuja office.
Dr. George Mavrotas is a leading development economist with more than 25 years of experience in international development. He is a renowned scholar and expert in the overall nexus between macroeconomics and development finance, including the macroeconomics of foreign aid effectiveness and domestic resource mobilization, financial sector development and poverty reduction. Other research interests include primary commodity markets and natural resources, agricultural policies, human capital development (with an emphasis on the economics of education & training) as well as international migration and urbanization and development. He has extensive developing country experience (particularly in Africa and Asia) and worked in multi-cultural environments for many years. Other current honorary appointments include a Visiting Professor at the Institute of Development Policy and Management, University of Antwerp, a Senior Fellow at the Foundation for International Development Study and Research (Ferdi, France), an External Research Associate at the Oxford Centre for the Analysis of the Resource Rich Economies (OxCarre) of the Department of Economics, University of Oxford, and an Associate Fellow at the Centre of Regional Integration Studies of the United Nations University in Bruges. He has also served as a member in various international committees on development issues and as an advisor to many international organizations.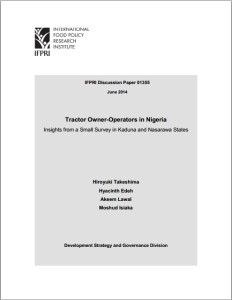 Download
Authors
The Nigeria Strategy Support Program (NSSP) is pleased to announce the publication of
Tractor Owner-Operators in Nigeria
by Hiroyuki Takeshima, Hyacinth Edeh, Akeem Lawal, and Moshud Isiaka as the 1355th publication in the IFPRI Discussion Paper Series. The IFPRI Discussion Paper was published on June 20, 2014.
.
Abstract: Agricultural mechanization is integral to agricultural transformation in countries like Nigeria. Despite the perceived rise in farm labor costs, most farmers still rely on manual labor or draught animals for farming activities, and tractor users are limited. In Nigeria, private tractor owners, rather than government hiring service units, provide a majority of plowing service. Unlike other more scale-neutral inputs, such as fertilizer and improved seeds, significant economies of scale may exist in tractors, which may justify certain public interventions. Understanding the characteristics of tractor service providers is therefore essential in designing an appropriate agricultural mechanization policy. However, information regarding the nature of tractor service provisions is scarce, especially in countries like Nigeria. This paper presents results of a small survey of tractor owner-operators conducted in Kaduna and Nasarawa states in Nigeria. Following are the key findings from simple descriptive statistics: (1) owner-operators who buy tractors from the private market or from private individuals are more efficient than those who receive tractors through government programs, providing services to a greater area at lower costs, including during the off-peak season; (2) providing access to a wider range of tractor horse powers may improve efficiency over diverse soil types; (3) similar to some Asian countries in the 1980s, tractor operations are mostly concentrated in interviewees' local home districts, though a fraction form groups and serve in distant locations to earn greater revenues. This paper concludes with a discussion of some policy implications.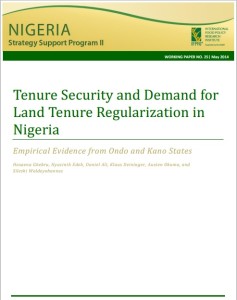 Download
Authors
The Nigeria Strategy Support Program (NSSP) is pleased to announce the publication of
Tenure Security and Demand for Land Tenure Regularization in Nigeria
by Hosaena Ghebru Hagos, Hyacinth Edeh, Daniel Ali, Klaus Deininger, Austen Okumo, and Sileshi Woldeyohannes as the 25th publication in the NSSP Working Paper Series. The working paper was published on May 14, 2014.
.
Abstract: In line with the conventional view that customary land rights impede agricultural development, the traditional tenure system in Nigeria has been perceived to obstruct the achievement of efficient development and agricultural transformation. This led to the Land Use Act (LUA) of 1978. As a remedial measure to the perceived inadequacy of the traditional tenure system, the act nationalized the control of all land, empowering state governors and local governments with administration and management of land. The act conferred on state governors the custodian right to provide use rights (i.e., the 'right of occupancy') for land users in their state, dissolving any possessory (freehold) rights to land which were granted by the customary system.
On behalf of IFPRI Nigeria, I am pleased to invite you to attend a seminar about credit rationing in the agricultural sector on August 21st in Abuja. The seminar, titled "Agricultural Finance Renaissance in Nigeria and Emerging Patterns of Credit Rationing" will be presented by IFPRI Senior Economist/Consultant Dr. Aderibigbe Olomola. During the seminar you will learn more about the reforms in agricultural financing since the early 2000s, the extent of credit rationing on farmers, and the factors influencing this practice.
Job Description

Job Title:
Research Assistant/Senior Research Assistant
Application Deadline:
Job Category:
Research
Department:
DSGD
Location:
Abuja, Nigeria
Appointment Duration:
1 Year
Job Code:
FO14-010
Position Type:
Renewable
Recruitment Type:
Local
US FLSA Status:
read more...
On behalf of IFPRI Nigeria, I am pleased to invite you to attend a seminar about land degradation on June 9th in Abuja. The seminar, titled "Who Bears the Burden of the Cost of Land Degradation? Global Assessment of the Cost of Land Degradation & Policy Implications," will be presented by IFPRI Senior Research Fellow Dr. Ephraim Nkonya. During the seminar you will learn more about the costs of action and inaction against land degradation and it's implications for the local and global community. read more...
Seed is an important input in agriculture. Appropriate seed policy enables the supply of good varieties to farmers at a low cost. Thus, improved seed-sector functions, including seed subsidies, effective regulations, certifications, and efficient private-sector participation, receive significant attention. Relatively less attention, however, has been given to the suitability of varieties that various seed-sector policies try to disseminate. For countries like Nigeria, where agricultural research and development (R&D) has long been incapacitated, seed-sector policies may often have insufficient outcomes, not so much because of the efficiency of those policies but mostly because varieties being promoted are outdated (even though they are called improved varieties) or suitable only in certain environments but not in most of the other areas with diverse agroecological conditions.
Download
Author
This paper addresses these issues using rice in Nigeria as an example. First, this paper shows that rice varietal development in Nigeria has been lagging behind that of other developing countries in Asia and Latin America, due partly to insufficient investment in domestic rice R&D. The paper then illustrates using a household model simulation that impacts of certain policies, such as the seed subsidy, may be greater (smaller) if they are applied to good (poor) varieties. The paper concludes by discussing key policy implications and future research needs.