Two new publications have been published by IFPRI's Nigeria Strategy Support Program (NSSP) - NSSP Working Paper No. 50 & accompanying NSSP Policy Note No. 46. The Working Paper and accompanying Policy Note, co-authored by Patrick Hatzenbuehler (Associate Research Fellow at IFPRI-Abuja) and George Mavrotas (Senior Research Fellow & Head of IFPRI-Abuja), explore how macroeconomic factors may influence agricultural program sustainability with a particular focus on Cross River state, Nigeria.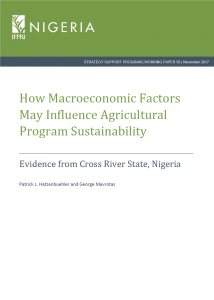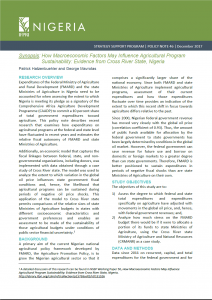 The authors stress that by focusing on Cross River state in the South-South geopolitical zone of Nigeria, the large gap in recent years between agricultural expenditure shares and the CAADP obligation is understood on a more detailed basis through examination of fiscal data from the state. The Cross River government has lower agriculture expenditure shares than the average for all states in aggregate. The authors argue that a policy mechanism for the Federal Ministry of Agriculture and Rural Development (FMARD) of providing temporary funding during periods of negative fiscal shocks appears plausible, especially for states such as Cross River that currently have low expenditure levels, based on the observed FMARD budgetary autonomy and the size of the FMARD budget relative to the aggregate state Ministry of Agriculture budgets.
These two publications are part of the output of the Feed the Future Nigeria Agricultural Policy Project, a joint effort between IFPRI-NSSP and Michigan State University which is funded by the United States Agency for International Development (USAID/Nigeria).