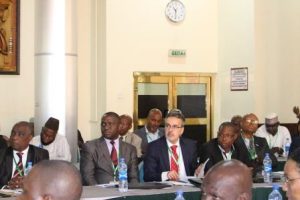 Dr. George Mavrotas, Head of the IFPRI Abuja Office and Director of IFPRI's Strategy Support Program in Nigeria participated in his capacity as a Member of the Joint Sector Review (JSR) Steering Committee in the JSR Conference organized by the Federal Government of Nigeria (FGN), in Abuja (Rockview Hotel Royal) on 28 and 29 September 2017. This high-level JSR event was held by the FGN and the Federal Ministry of Agriculture and Rural Development (FMARD) in compliance with the Comprehensive Africa Agricultural Development Programme (CAADP) endorsed by African head of states through the AU New Partnership for African Development (NEPAD). Nigeria and other African signatories of CAADP are bound to eliminate mounting poverty by increasing public spending and fast-tracking growth in the agricultural sector.
The event was attended by a large number of stakeholders and development partners, including the Ministry of Agriculture, state commissioners of agriculture, program managers, agricultural development representatives of the private sector, farmer-based organizations, donor agencies, academia and the media among others.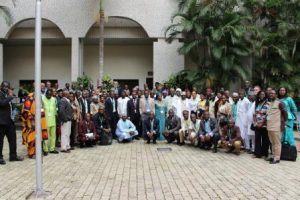 The Honorable Minister of Agriculture and Rural Development, Chief Audu Innocent Ogbeh said in connection with the JSR process that "it is hoped that the outcome of the review would put in place more measures to unlock the full potential of Nigeria's agricultural sector in line with CAAPD framework, the Green Alternative Policy and Economic Recovery Growth Plan (ERGP) 2017-2020".
Dr. George Mavrotas stressed in his speech at the event that he was delighted to witness at the event, and over the last few months, the very substantial progress made on the Joint Sector Review process led by FMARD. He also mentioned that the IFPRI Nigeria Office has been instrumental in supporting FMARD in a number of important policy initiatives in recent years, and more recently in connection with the Agriculture Promotion Policy, the launch of the Food Security and Nutrition Strategy and the new Gender Policy in Agriculture among many others. Furthermore, the Feed the Future Nigeria Agricultural Policy Project, a partnership between IFPRI's NSSP and Michigan State University funded by USAID/Nigeria, has worked closely since its start with FMARD and various stakeholders in the Nigerian agricultural sector to enhance capacity building, conduct policy relevant research and analysis, and promote policy dialogue and outreach in order to improve agricultural policy in Nigeria.
In an interview with the media and the AIT TV channel at the event he also described the Joint Sector Review process as a golden opportunity for Nigeria to embrace the neglected agricultural sector, given the recent fall in oil prices and the challenge for the country to feed its growing population in the coming years. Nigeria's This Day newspaper covered the event and the interview by Dr. Mavrotas. The article was also republished by All Africa and ran in multiple outlets. The interview was also broadcasted by the AIT TV main news on Friday September 29.