On Monday, 21 August 2017, the Director General's Office of the International Food Policy Research Institute (IFPRI) in collaboration with IFPRI's Nigeria Strategy Support Program (NSSP) and the World Food Programme (WFP), and under the sponsorship of the European Commission, organized a seminar on "Governance issues of regional reserves" at Transcorp Hilton Hotel in Abuja, Nigeria.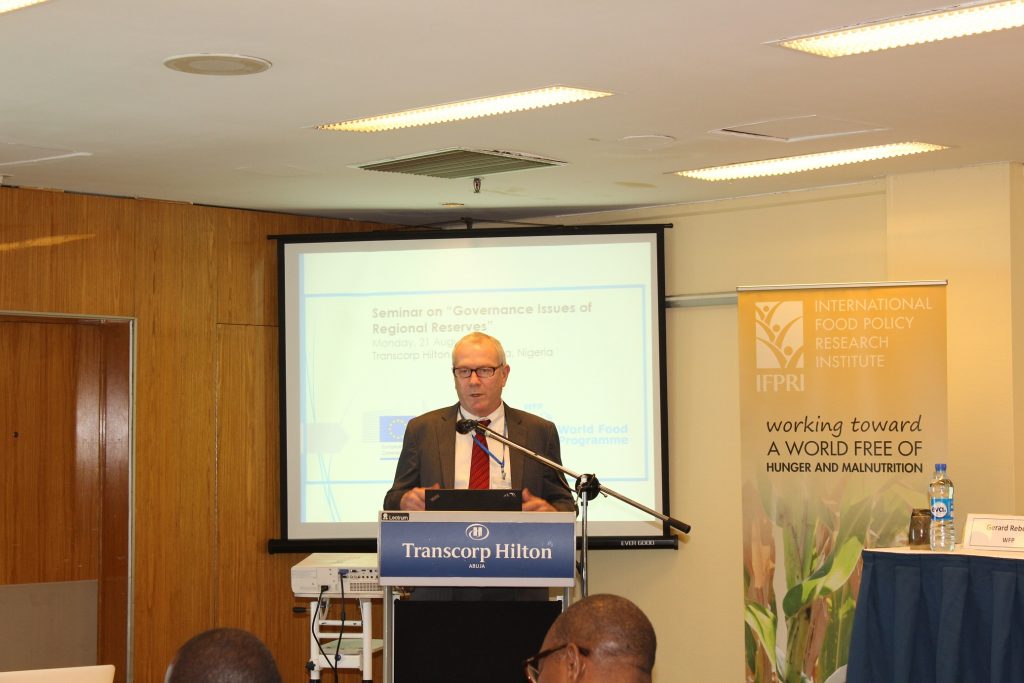 In his welcoming remarks, Dr. George Mavrotas (Head of IFPRI Abuja Office) emphasized the importance that IFPRI attaches to partnerships and he was delighted to see partners from academia, NGOs, government and international organizations joining hands to discuss this very important topic.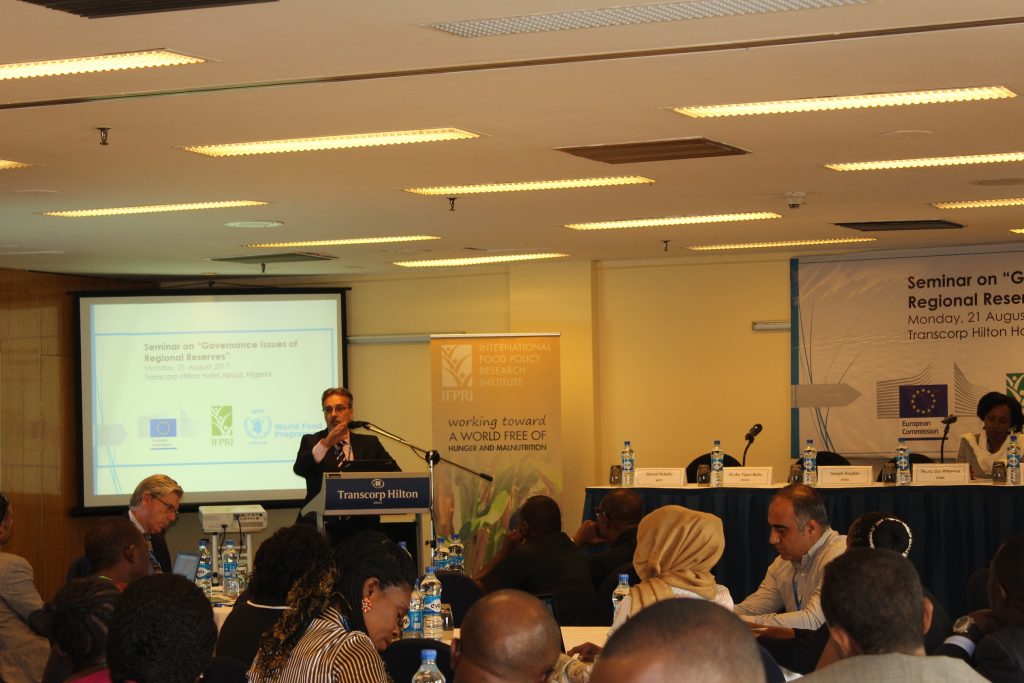 He also said that timing is perfect for such a discussion and reflections on this important topic for Nigeria too, in view of the important developments in the Nigerian agricultural sector recently as well as key initiatives by the Ministry of Agriculture and Rural Development on various fronts (Agriculture Promotion Policy (APP), Joint Sector Review (JSR) for the CAADP implementation process, launch of new strategy on nutrition and food security, gender policy in agriculture among many others).
Other remarks were delivered by Ms. Helen Bugaari of WFP and Mr. Kurt Cornelis (Head of Cooperation, Delegation of the European Union to the Republic of Nigeria to the ECOWAS Commission).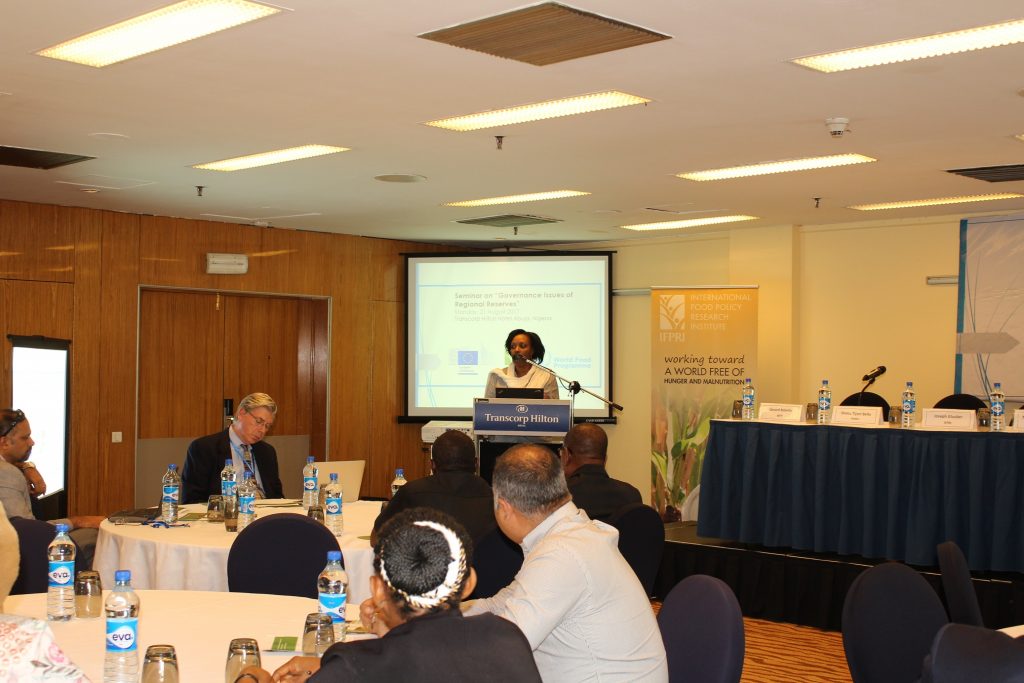 Gerard Rebello of WFP provided an overview of WFP's experience in resilience and strategic grain reserves, noting that Nigeria had been a major contributor in humanitarian crises, having supplied WFP with 48,000 metric tonnes of grain for Mali and Chad.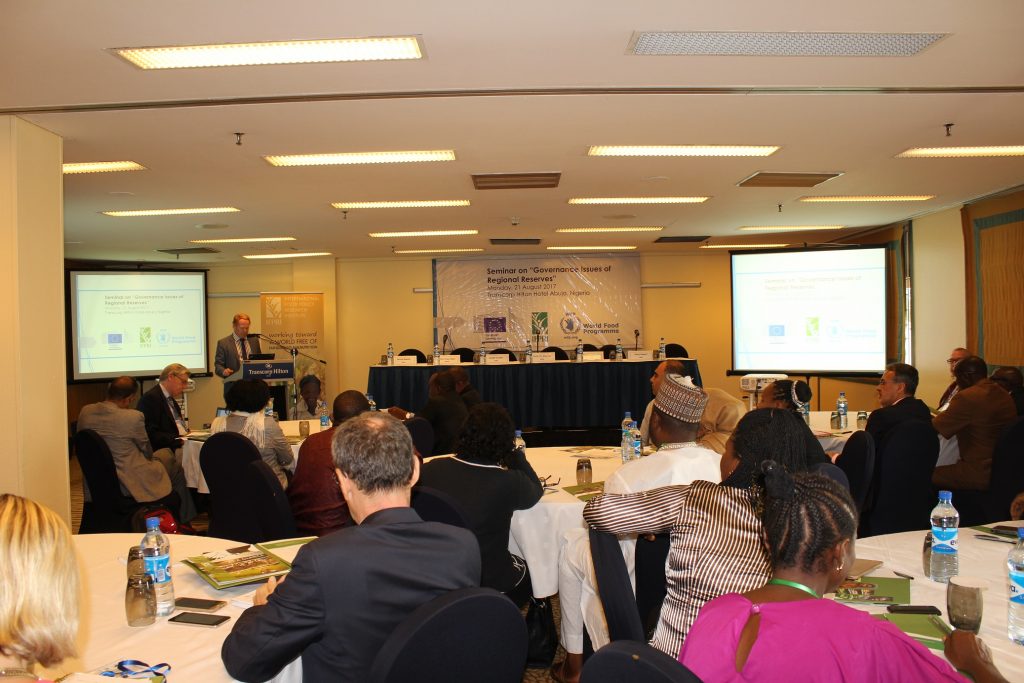 The Seminar's main presentation was delivered by Dr. Joseph Glauber (IFPRI Senior Research Fellow) who highlighted the key issues around the design of a regional reserve scheme for ECOWAS. According to Dr. Glauber, such issues include:
Size of reserve(s)
Location of reserve(s)
Composition of the reserve(s)
Operational rules for the establishment and running of the reserve(s)
Relationship between the proposed regional reserve(s) and stocking policies at national level.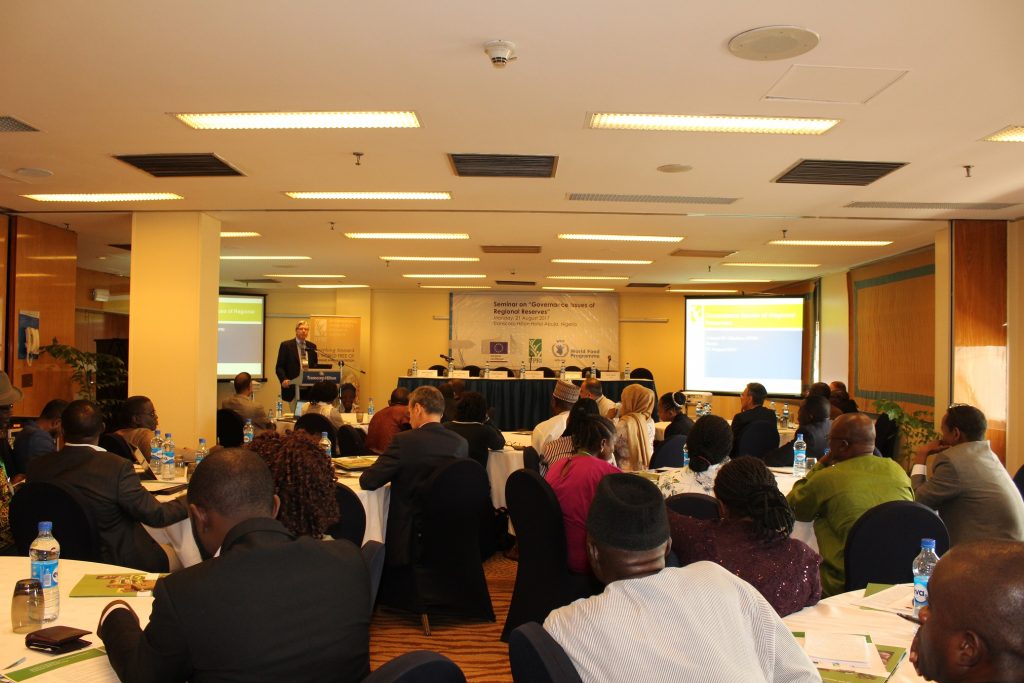 The study was undertaken to assess the regional food reserves in the West African Region with the aim increasing resilience and improving food security. The study focused on six countries in the Economic Community of West African States (ECOWAS), namely: Burkina Faso, Ghana, Mali, Niger, Nigeria and Senegal.
The presentation was followed by commentaries moderated by Dr. Teunis van Rheenen (Head of Partnerships and Business Development, IFPRI). Commentaries were given by Dr. Shehu Tijani Bello (Director, Strategic Grain Reserves, Federal Ministry of Agriculture and Rural Development (FMARD) and Dr. Oyesola Oyebanji (Chief Technical Advisor to the National Programme for Food Security).
The seminar was organized as part of an output of the European Commission's project on "Assessing Regional Food Reserves to Increase Resilience" which was developed with the overall objective of improving food and nutrition security in ECOWAS countries through an optimal design of a regional reserve mechanism. The seminar was attended by over 50 participants with representation from the Government of Nigeria, academic and research communities, the development and donor community, non-governmental organizations, and the media.