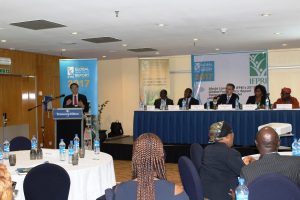 The International Food Policy Research Institute (IFPRI) held an international conference on Thursday July 20, 2017 at Transcorp Hilton hotel in Abuja to present key findings from the 2017 Global Food Policy Report, the latest in an annual analysis of developments in food policy around the developing world. The launch event of the GFPR (jointly organized by IFPRI's Nigeria Strategy Support Program (NSSP) and the Director General's Office in Washington DC) was attended by about 120 participants including senior representatives from the Federal Ministry of Agriculture and Rural Development and other Ministries, development partners, donors, policy makers, nongovernmental organizations, civil society and academia.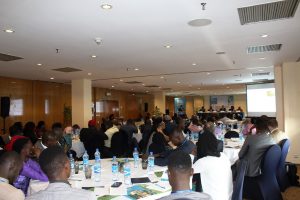 With rapid urbanization dramatically shifting demographics across the developing world in recent years, this year's report focuses on how urbanization is changing food systems, health, and development. Nearly 90 percent of the projected urban population increase is concentrated in Africa and Asia, with Nigeria, China, and India alone expected to add 900 million urban residents by 2050. The report finds that cities provide an opportunity to boost farmers' incomes, if they are effectively connected through strong value chains.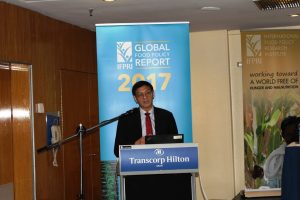 "Urbanization is driving huge changes in how small farmers connect with markets to sell their goods, global diets, and the way that food systems are governed," said Shenggen Fan, Director-General of IFPRI. "In Nigeria, helping policy makers, city residents, and rural smallholders understand this changing environment, and how to respond to it, is absolutely necessary to achieve the sustainable development agenda."
Cities provide opportunities for rural smallholders to raise their incomes by connecting to larger urban markets and typically more wealthy urban consumers. For urban consumers, small farmers can provide an important source of diverse and nutritious foods. But the links between these areas in the developing world are often weak or broken, hindering growth and development.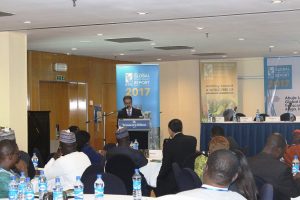 "The Africapolis I report on Urbanization Dynamics in West Africa (2016) recently identified 1,236 agglomerations in Nigeria, of which more than 80 percent had more than 10,000 inhabitants in 2010," stressed George Mavrotas, Senior Research Fellow and Program Leader of IFPRI's Nigeria Strategy Support Program. "The report also re-assessed the level of urbanization in Nigeria at 46 percent, up from 31 percent since the previous urbanization report on Nigeria back in 2008. This presents an enormous challenge and many opportunities for food policy in the country in the years to come."
In Nigeria, a weak value chain in rice production has led to higher imports of the staple. The country now imports close to 60 percent of the crop, despite producing enough rice to feed its population. Urban residents cite inconsistencies in quality, labeling, and taste as their main concerns —problems that arise from poor vertical integration in the domestic rice value chain. "Rice has become one of Nigeria's most-consumed staples, and the country has made boosting rice production a priority," said Fan. "But lack of standard seeds and milling facilities infrastructure along the value chain leads to consumers' preference to consume imported rice."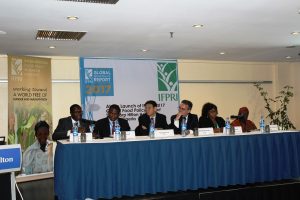 Along with Dr. Fan and Dr. Mavrotas, other panelists included Dr. Andrew Kwasari, Senior Advisor to the Honorable Minister of Agriculture and Rural Development (FMARD); Mrs. Roselyn Gabriel, Deputy Director Food and Nutrition, National Committee on Food and Nutrition, Ministry of Budget and National Planning; Dr. Victor Ajieroh, Senior Program Officer for Nutrition, Bill and Melinda Gates Foundation Office in Nigeria; and Dr. Bamidele Davis Omotola, Nutrition Specialist, UNICEF, Abuja Office.
Distinguished Senator, Dr. Aliyu Sabi Abdullahi (Chairman, Senate Committee on Media & Public Affairs, representing Niger North Senatorial District, National Assembly, Abuja) in his welcome remarks congratulated IFPRI for putting together an excellent report which emphasizes the important links between food security and nutrition in an urbanizing world, a nexus of central importance for Nigeria too.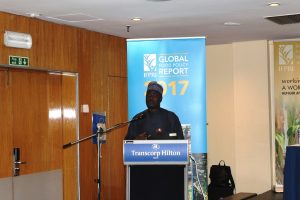 This year's report also features chapters on how urbanization is changing diets and the landscape of poverty and health; and the role informal economies play in providing food for Africa's urban populations; as well as updated data sets on global hunger, agricultural investment, public expenditures, and more.
The International Food Policy Research Institute (IFPRI) seeks sustainable solutions for ending hunger and poverty. IFPRI was established in 1975 to identify and analyze alternative national and international strategies and policies for meeting the food needs of the developing world, with particular emphasis on low-income countries and on the poorer groups in those countries. www.ifpri.org.