As part of further support to efforts by the Nigerian government to enhance capacity to plan and implement agricultural policy and programming, the International Food Policy Research Institute (IFPRI) has trained 26 mid-career staff of the Federal Ministry of Agriculture on Rural Development (FMARD) on 3-4 July 2017 in Abuja. The training was led by Ms. Elisabeth Douglas (Communications Specialist, IFPRI-NSSP Office) with assistance from Ms. Bisola Oyediran (Communications Assistant, IFPRI-NSSP Office).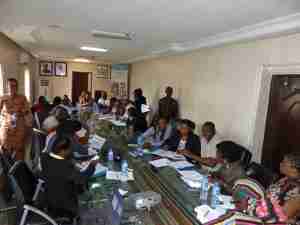 The training covered the essentials for writing key documents such as reports and memos for effective policy communication. Good written communication is vital for sound and efficient planning, information sharing and decision-making within institutions. As such, the training is expected to enable participants more effectively communicate program and policy information to support policy-making on issues relevant to the country's national development agenda.
This training course was part of the activities in connection with the Feed the Future Nigeria Agricultural Policy Project, a joint effort between the International Food Policy Research Institute (IFPRI)'s Nigeria Strategy Support Program (NSSP) and Michigan State University (MSU) funded by the United States Agency for International Development (USAID-Nigeria).