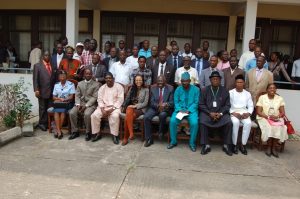 Dr. Tewodaj Mogues, Senior Research Fellow at IFPRI Washington DC was invited to deliver a presentation at the Nigerian Institute of Social and Economic Research (NISER) Research Seminar Series organized by NISER in Ibadan on 21st February 2017. The presentation titled "Actors and Institutions in Agricultural Public Expenditure Allocation and National Food Security: Evidence from Subnational Jurisdiction in Nigeria" was based on the NSSP Working Paper No. 37  and the accompanying NSSP Policy Note No. 38   co-authored by Tewodaj Mogues and Tolulope Olofinbiyi.
Research work on which this presentation was based aimed to analyze why policy makers continue tounderinvest in agricultural public goods and services that have well known high payoff to the rural poor. This research used the framework of actor-centered institutionalism to empirically examine how political and budget institutions affect the incentives of actors involved in the public agricultural finance process, structures the interactions between them, and ultimately shapes expenditure allocations. Research results suggest that budget allocations are outcomes of political choices among a variety of public actors with diverse interests and capabilities, negotiating budgets within specific political-institutional contexts.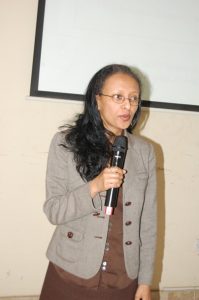 The seminar was well attended by NISER staff members as well as faculty members of the University of Ibadan. Dr. O. A. Abimbola, Head of NISER gave the opening remarks and introduced seminar participants. The overview of the seminar topic was done by Professor Joseph Kayode Olayemi of the University of Ibadan. Professor V.O. Okoruwa of the University of Ibadan and Professor G. Akpokodje from NISER gave their reflections as discussants following Dr. Mogues' presentation. Closing remarks were delivered by Professor F.O. Nyemetu Robets of NISER followed by a vote of thanks given by Dr. Abubakar Oladeji.
These two publications are part of the research output emanating from the Feed the Future Nigeria Agricultural Policy Project , a joint effort between the International Food Policy Research Institute (IFPRI)'s Nigeria Strategy Support Program (NSSP) and Michigan State University funded by USAID/Nigeria.