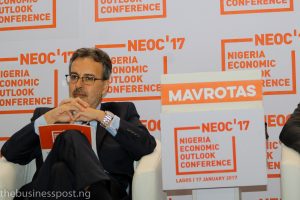 Dr. George Mavrotas, Head of the IFPRI Office in Abuja and Leader of IFPRI's Nigeria Strategy Support Program (NSSP) was invited to participate as a plenary speaker in the Nigeria Economic Outlook Conference, organized by Time Economics, The Nigeria Incentive-Based Risk Sharing system for Agricultural Lending (NIRSAL) and Business Post in Lagos, on 17 January 2017. The Nigeria Economic Outlook Conference was a thought-provoking gathering of more than 200 government, economics and business thought leaders to x-ray paths to economic recovery and growth for the Nigerian economy in 2017. The discussions at the Conference focused on the factors that are likely to influence growth and speakers gave their insights and shared their expectations for 2017 on macro, agro, energy and industry trends among others.
Dr. Mavrotas participated as a speaker in the main roundtable of the Conference along with Dr. Ogho Okiti (CEO,Time Economics), Mr. Aliyu Abdulhammeed (MD/CEO of NIRSAL) and Mr. Dolapo Oni (Head, Energy Research Ecobank Group). The panel discussion was moderated by Mr. Paul Wallace (Emerging Markets Reporter, Bloomberg LP).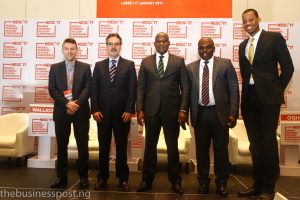 A particular focus of the main roundtable of the Conference was on how the Nigerian economy can move away from its heavy reliance on high oil prices and the oil sector and diversify by also investing substantially in agricultural transformation and other potentially growth enhancing sectors. Dr. Mavrotas stressed in his remarks the central role the focus on the agricultural sector can play in Nigeria in view of the growing demographic pressures in the country and the huge potential of the agricultural sector as an engine of inclusive growth, poverty reduction and employment creation for millions of Nigerians (including the Nigerian youth) in the years to come.