Dr. George Mavrotas, represented IFPRI-NSSP as a plenary speaker in the 11th African Economic Conference (AEC) in Abuja, on December 5-7, 2016. Over 300 participants attended the annual event, co-organized by the African Development Bank (AfDB), UN Economic Commission for Africa (ECA) and United Nations Development Program (UNDP), on the theme, "Feed Africa: Towards Agro-Allied Industrialization for Inclusive Growth."
George Mavrotas stressed in his plenary session remarks the need to delve deeper into resilience issues in African agriculture and he also referred to IFPRI's 2020 Vision Initiative, which emphasized that building resilience in the post-2015 word should remain a key priority for the international development community. He also reflected on the importance of investing in agricultural productivity in Africa and he mentioned various examples of sustainable technologies which enhance agriculture competitiveness without damaging the environment.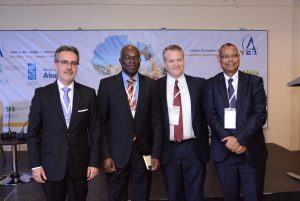 Opening the conference, Nigeria's Vice-President, H.E. Yemi Osinbajo, commended the theme and the high-level participation in the conference, adding that the Government looks forward to the outcome of its deliberations "as it would be very useful as we design our new economic recovery plan where agro-industrialization will certainly play a key role."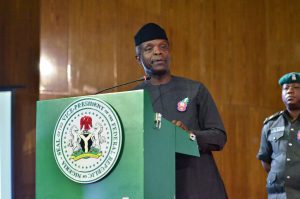 AfDB President, Akinwumi Adesina gave a keynote speech in which he underscored the fact that agriculture, which contributes over 28% of Africa's GDP, holds the key for accelerated growth, diversification and job creation for African economies and its people.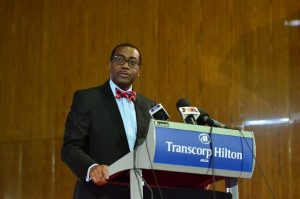 The conference attracted a number of eminent speakers over the three days, including Eric Maskin, Economics Professor at Harvard and co-recipient of the 2007 Nobel Prize in Economics.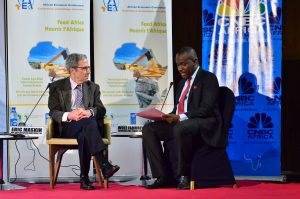 The Honorable Minister of Agriculture and Rural Development, Chief Audu Ogbeh also participated in the opening plenary of the conference. Other high-level conference participants included, among others, Cho Gyoung-Rae, Secretary General of the Korea-Africa Good and Agriculture Cooperation Initiative (KAFACI); Charles McClain, Deputy Minister of Agriculture for Planning and Development in the Liberia Ministry of Agriculture; Henry Eyebe Ayissi, Minister of Agriculture and Rural Development, Cameroon; and Godwin Emefiele, Governor of the Central Bank of Nigeria.