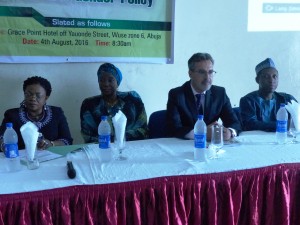 On Thursday, 4 August 2016, the Federal Ministry of Agriculture and Rural Development (FMARD) held a workshop on the Draft National Agricultural Gender Policy. The workshop, which brought together about 120 representatives from the country's 36 State Ministries of Agriculture, academia and development partners among others, provided a platform for the validation of the Draft National Agricultural Gender Policy document. Following validation, the policy document will then be presented before the country's Federal Executive Council for adoption. Dr. George Mavrotas, Head of IFPRI Office in Nigeria and Leader of IFPRI's Nigeria Strategy Support Program, was invited by FMARD to be part of the Opening Plenary and High Table of the above validation workshop.
In his keynote address, the Permanent Secretary for Agriculture and Rural Development, Dr Shehu M. U. Ahmed, stated that although Nigerian women are responsible for 70 per cent of agricultural labour, 50 per cent of animal husbandry related activities and 60 per cent of food processing, they have access to less than 20 per cent of available agricultural resources and facilities. He pointed out that for agriculture to be able to contribute more effectively towards economic growth and national development in the country, it is imperative to ensure that women could participate more effectively in the agricultural sector and that is why the thrust of the Agricultural Gender Policy is to promote the adoption of gender sensitive and responsive approaches in the Nigerian agricultural sector.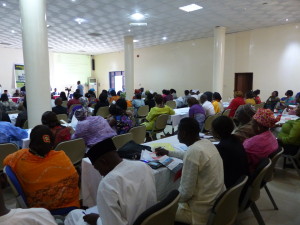 In his own remarks, Dr. George Mavrotas mentioned that "as we participate in this important workshop today, it is essential to emphasize that empowered women can contribute tremendously to the food security of their families and overall agricultural growth in Nigeria. Agricultural investment interventions and programs in Nigeria should be well targeted to ensure women are included in terms of access to land and inputs, markets, technology, extension services and finance". He also stressed that although women contribute tremendously to both on-farm and off-farm labour and productivity in Nigeria, they do not fully participate when it comes to decision-making on agricultural production.  He also referred to preliminary findings from an ongoing study by M. Adesugba and G. Mavrotas of IFPRI's Nigeria Strategy Support Program (NSSP) on the impact of gendered decision-making on agricultural productivity (using the 2012/2013 LSMS data to get more insights into women empowerment through decision-making in the Nigerian agricultural sector), which seem to indicate that when women have access to farm inputs and markets, and they make decisions on agricultural production, either independently or together with their male counterparts, the chances of increasing productivity are very high.
Save
Save
Save
Save