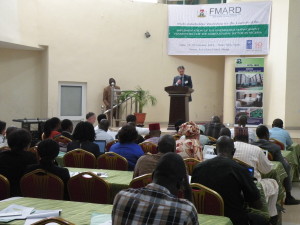 As a natural partner of the Nigerian Government on agricultural issues, the International Food Policy Research Institute (IFPRI)'s Office in Nigeria is committed to supporting the effective implementation of the Knowledge Management framework developed by the Federal Ministry of Agriculture and Rural Development (FMARD) and the United Nations Development Program (UNDP) for the Nigerian agricultural sector.
This was the key message delivered by Dr. George Mavrotas, Head of Office for IFPRI's Nigeria Strategy Support Program (NSSP), at a multi-stakeholder workshop organized by FMARD and the United Nations Development Programme (UNDP) on 15-19 February 2016 in Abuja, to launch the FMARD Knowledge Framework for the Nigerian agricultural sector. In addressing more than 200 stakeholders from federal- and state-level government institutions, the private sector, development partners and research institutes in Nigeria, Dr. Mavrotas highlighted IFPRI's excellent track record over the years in the broad area of Knowledge Management and Capacity Strengthening and of sharing emerging lessons with researchers, policymakers and other stakeholders across local and regional networks in its various country programmes (including the NSSP).
"Going forward, IFPRI will continue to give a central place to capacity strengthening, building on its experience with collaborative research, innovative approaches, country-based knowledge and regional networks to make a sustainable impact on food policy and for a world free of hunger and malnutrition." He concluded.
For more information, please contact:
Elisabeth Douglas, Communications Specialist (e.douglas@cgiar.org)