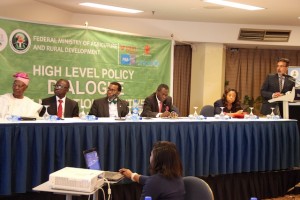 The Nigeria Strategy Support Program (NSSP) of the International Food Policy Research Institute (IFPRI) was invited to speak at the High-Level Policy Dialogue on Nutrition Sensitive Agriculture in Nigeria held on March 17, 2015 in Abuja, Nigeria. The event, organized by the Nigerian Federal Ministry of Agriculture and Rural Development (FMARD), engaged influential stakeholders and development partners from Nigeria's agricultural industry, representatives of international organizations, the donor community, NGOs and the civil society, in order to focus on the nation's agricultural and nutrition policy. In particular the event's main objective was to drive a high profile advocacy effort to raise the profile of nutrition sensitive agriculture and shape agricultural policy efforts that would enhance nutrition in Nigeria, and to create a shared understanding and engage international expertise and best practices on nutrition transformative agricultural policies and programmes.
As part of the above event, Dr. George Mavrotas, NSSP-IFPRI Program Leader, was invited to give a presentation on the key findings and policy lessons emanating from the Global Nutrition Report (GNR) 2014 published by IFPRI in November 2014. The presentation reflected also on key statistics from the GNR, such as that malnutrition accounts for 45 percent of global child death and that a 16 to 1 return exists on nutrition investments. These were cited by the Honorable Minister of Agriculture and Rural Development, Dr. Akinwumi Adesina, as clear signs of the need to mainstream nutrition into agriculture. The event highlighted inter alia the need for improving data on nutrition to provide ancillary benefits such as the creation of indices for Nigerian states to measure performance on key public nutrition programme efforts to meet the needs of malnourished individuals and to improve the health and economic security of low-income families. It was also stressed that access to more accurate data may improve policies and practices that would expand the reach of federal nutrition programs.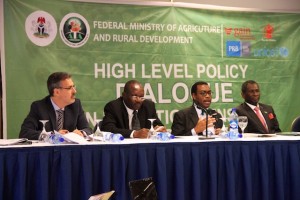 In addition, Dr. Mavrotas was a panelist in the main panel on Nutrition-Transformative Agriculture Policy which included the Honorable Minister of Agriculture and Rural Development, Dr. Yaya Olaniran (Ambassador and Nigeria's Permanent Representative to the United Nations Food and Agriculture Orgarnization (FAO), World Food Programme (WFP) and the International Fund for Agriculture and Rural Development (IFAD) in Rome), Ms. Ada Osakwe (Senior Investment Advisor to the Honorable Minister of Agriculture and Rural Development), Professor Paul Amaza (Vice Chair of the Agricultural Transformation Agenda Policy Working Group), Ms. Emmy Simmons (Global Panel on Agriculture, Food Systems and Nutrition), and was moderated by Ms. Ndidi Nwuneli (Founder of Leap Africa). The event was concluded with the inauguration of the Interministerial Agriculture Nutrition Working Group, which included Ms. Margaret Adesugba as a member, NSSP-IFPRI Senior Research Assistant, and which was introduced by the Honorable Minister of Agriculture and Rural Development, Dr. Akinwumi Adesina.