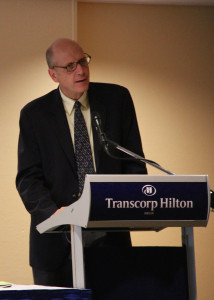 The Honorable Minister of Agriculture and Rural Development of the Federal Government of Nigeria has articulated the need for the Agricultural Transformation Agenda (ATA) to unlock Nigeria's potential to improve availability and access to nutritious foods in order to improve food and nutrition security through agriculture. As a result, a two-day National Capacity Building Workshop on Mainstreaming Food and Nutrition Security into Agricultural Policies, Programmes and Value Chains was held in Abuja on August 27th and 28th, 2014. The workshop was organized by the Nutrition Transformation Value Chain (NTVC) team and coordinated by the Senior Advisor to the Honorable Minister of Agriculture and Rural Development on Food Security and Nutrition, Dr. Victor Ajieroh.
The workshop was attended by over 100 participants from relevant ministries, departments and agencies of the federal government of Nigeria, civil society group, private sector stakeholders, key international development partners, research institutions, and other stakeholders. The overall objectives of the workshop were to: 1) engage multi-sectoral stakeholders on the current priorities of the evolving Food Security and Nutrition Strategy in the context of the Agricultural Transformation Agenda; 2) increase understanding of available tools, resources, governance issues and programmes experiences for mainstreaming nutrition into agricultural policies, investment plans, food systems and value chains; 3) work towards a clear roadmap and action plan for mainstreaming nutrition and food security into agricultural policies, investment plans, programmes and value chains at federal and state levels; 4) work out modalities to catalyze multi-stakeholder investments for key opportunities and priorities in nutrition sensitive agriculture in Nigeria.
In achieving the stated objectives, the workshop engaged the expertise of all the participants in three technical sessions. Dr. Todd Benson, a Senior Research Fellow with the Development Strategy and Governance Division (DSGD) of the International Food Policy Research Institute (IFPRI) in Washington DC, presented in each of the technical sessions. The presentations were on: 1) Improving the Nutrition of All Nigerians through Agriculture – A Conceptual Understanding of Improving Nutrition through Agricultural Policies, Programmes, and Value Chains; 2) Using Evidence to Guide Agricultural Programming for Improved Nutrition – Understanding When and How Malnutrition Maybe Rooted in Ineffective Food and Agriculture Systems; and 3) Building Capacities for Mainstreaming Nutrition into Agriculture – Individual, Institutional and System-Wide Capacities. In addition, Dr. Oluyemisi Kuku-Shittu, an Associate Research Fellow with the Nigeria Strategy Support Program (NSSP) of IFPRI, chaired a working group on policy for mainstreaming nutrition into agriculture.