Due to unforeseen travel issues the April installment of IFPRI Nigeria's Monthly Seminar Series is rescheduled for next Wednesday, April 30th.
Join us for the April installment of IFPRI Nigeria's Monthly Seminar Series. This month we are excited to have IFPRI Senior Research Fellow/NSSP Program Leader, Dr. Kwabena Gyimah-Brempong, presenting on the very timely topic of Youth Employment. In the seminar, titled "Agricultural Transformation and Youth Employment in Africa: Nigerian Case Study," Dr. Gyimah-Brempong will discuss his current research on youth employment in Nigeria and how agriculture can play a role in mitigating unemployment. For the full abstract, please see below.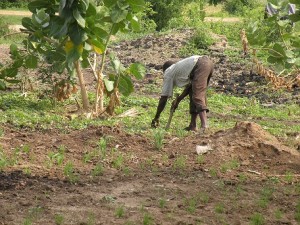 Date: Wednesday, April 30, 2014
Time: 2:00PM - 3:30PM
Venue: IFDC/IFPRI Conference Room No 6/Plot 1413 Ogbagi Street Off Oro-Ago Crescent Cadastral Zone II, Garki, Abuja Nigeria (Near old CBN building and behind Union Homes)
RSVP: Email a.y.bashir@cgiar.org before the 29th of April.
We apologize, but we are unable to provide transportation stipends to attend this event.
Abstract:
Youth unemployment is one of the major pressing social problems facing Africa today. In spite of the fact that an overwhelming proportion of the labor force in Africa is employed in the agricultural sector, discussions of employment policy sidestep this sector until recently. This paper discusses the degree to which agricultural transformation can create employment for the youth in Nigeria. We argue that given the relatively large size of the sector and the potential for its expansion, meaningful reduction in youth unemployment in Nigeria can only come from employment generation in the agricultural sector. While progress has been made under the Agriculural Transformation Agenda, we conclude with recommendations for further absorption of youth into the agricultural sector.
Bio:
Kwabena Gyimah-Brempong is the Program Leader of IFPRI-NSSP and holds a PhD in Economics from Wayne State University in Detroit, Michigan. He has been a Professor of Economics at the University of South Florida in Tampa since August 1994, chairing the Department from August 2004 to August 2012. He was an Associate Professor and Professor of Economics at Wright State University in Dayton, Ohio from 1988 to 1994 and an Assistant Professor at New College of the University of South Florida. From 2002 to 2004, he served as Economics Program Director at the National Science Foundation (USA).
Kwabena's research focuses on issues of African economic development, economic analyses of crime and crime control, and efficiency in the provision of public services. Kwabena has published over 60 refereed articles in professional economic journals including the American Economic Review, Journal of Business and Economic Statistics, and the Review of Economics and Statistics. He has also published 10 book chapters. He serves on the editorial boards of 3 journals, reviews for a large number of journals, and consults for several international organizations. Kwabena is a past President of both the National Economic Association and African Finance and Economics Association.