We are pleased to announce the release of the 2012 Global Food Policy Report. The report, the second in the series, reviews major food policy developments like new sources of agricultural growth, the outcomes of Rio+20 and the progress toward a green economy, the move from attention to action on gender, the prospects for youth employment in agriculture in Africa, the evolution of the US and EU support for their farmers, and the drivers of future global food security. Drawing on rigorous research and sound evidence, the Report discusses the key food policy developments that have contributed to or hindered progress in food and nutrition security and highlights emerging developments in 2013.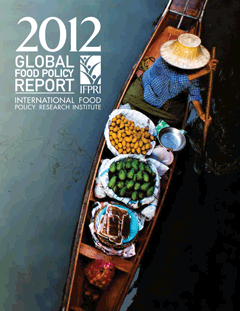 Of special interest to our readers:
Chapter 5: Employment in Agriculture - Jobs for Africa's Youth
Chapter 7: Regional Development - Policy Choices on the Ground, Africa
To download the full PDF, Infographics, or charts and visit the interactive version of the 2012 Global Food Policy Report.
If you are a member of the media, please see our media highlights page.